Press Release: Steamship Mutual Limassol Office
Image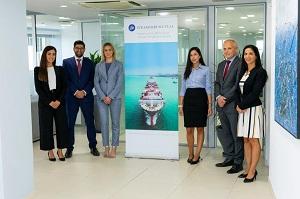 The Cyprus office staff
On 6th October Steamship Mutual Europe was delighted to welcome at their office in Limassol Mr. Vassilios Demetriades, the Shipping Deputy Minister.  A traditional blessing ceremony took place to mark the opening of the new Cyprus office.  Even though social distancing and the wearing of masks was required to ensure everyone's well-being, this did not stop a small group of staff, Board Members and guests attending the occasion and wishing Steamship Mutual Europe a safe and prosperous future.
With the UK leaving the European Union, Steamship Mutual chose to set up a new insurance company in Cyprus to service its clients all over Europe and started writing business in February 2020. Steamship Mutual was attracted to Cyprus because of its clear commitment to the shipping sector and the effort which the government and its regulator have shown in providing a supportive, stable and transparent environment in which to operate.
Rupert Harris, Chief Executive Officer, Steamship Mutual Europe, commented "Even though Steamship Mutual has had a long relationship with many shipowners in Cyprus, we have been overwhelmed by the warmth of welcome we have received from the whole Cyprus shipping sector, as we set up our new office in Limassol.  We have put together a very strong team here who will certainly repay that welcome by providing a quality service to our clients and to the shipping community as a whole.  We very much look forward to being part of Cyprus' growing maritime business."
Shipping Deputy Minister Demetriades welcomed Steamship Mutual to Cyprus and stated "The Cyprus shipping cluster is growing with the addition of top-quality shipping companies and associations offering shipping related services.  Steamship Mutual is one of the largest and most diverse P&I Clubs in the world and its presence in Cyprus will make a positive contribution."
The Steamship Mutual Group is an S&P Global A (stable) rated insurer and leading Protection & Indemnity Club for shipowners and charterers with offices in London, Piraeus, Rio De Janeiro, Hong Kong, Singapore, Tokyo and now Limassol.  Founded in 1909, the Group covers nearly 10,000 ocean and river trading merchant vessels across the globe and writes over $300m of premium.  It is one of the financially strongest insurers in the P&I market.  Steamship Mutual Europe insures the Group's European Members, who make up nearly one third of the Group's overall business.
**ENDS**
If you have any questions relating to this press release please direct your enquiries to Natalie Kenward