Steamship Mutual Salutes International Women's Day
Image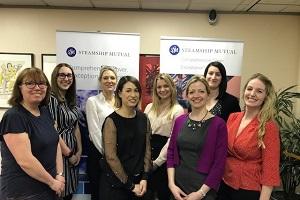 On International Women's Day we are focusing on some of the women contributing to the work of Steamship Mutual. The shipping industry is sometimes seen as being male dominated, and the IMO Secretary General Kitack Lim recently called for more women in shipping. Indeed the theme of the 2019 World Maritime day is "Empowering Women in the Maritime Community". 
We are pleased that a diverse range of talents and people contribute to the work of Steamship Mutual. Let's meet some of the female staff at Steamship. 
After graduating in Law, Rebecca Penn-Chambers joined Steamship in 2015 and currently works as a Claims Executive in Steamship's Eastern syndicate, dealing with a variety of P&I and FD&D claims for the Club's Indian members. In January 2019, Rebecca joined the Committee of the Lloyd's Marine and Energy Under 35s Insurance Group and is responsible for organising lectures, educational visits and social events for the Group's members. In addition to all of that, Rebecca recently set up Steamship's reading group who meet regularly to review a chosen book. 
With shipping and P&I being such an international business, language skills are a helpful asset. Underwriting Director Sarah Chase speaks Italian and French and worked for several years in Steamship's European syndicate before transferring to the America's syndicate. She became a Director in 2018. Outside work Sarah is kept busy with two children and is also a member of Wista (Women's International Shipping and Trading Association), a global organisation connecting female executives with more than 3000 female professionals from all sectors of the maritime industry. Steamship was proud to sponsor the 20th anniversary Wista USA conference held in New York in May 2018. Sarah attended with Syndicate Associate Donna Purdue, also an underwriter in Steamship's America's syndicate.
Maria Chrysanthou is a claims executive in Steamship's European syndicate. Originally from Greece, Maria joined the Club in 2016 after working for a shipping company in Greece. She is a claims executive in the European syndicate dealing with a variety of P&I claims, and is also involved in the Club's PEME scheme, and has travelled abroad to visit the Club's ship owner members. Maria also plays football in the Steamship football team. 
Accountant Sara Treamer has worked in Steamship's accounts department for over 30 years. When she is not at work, Sarah keeps track of her 6, yes 6 border collies, no doubt good practice for keeping track of accounting matters. 
The manager of Steamship's Rio office Katia Oliveira is also a long serving employee. As manager of Steamship's only office in South America, Katia is a focal point for many enquiries about Brazil from both members and staff. 
Underwriting Associate Fern Attree and claims executive Lorna Watkin have passed all seven modules of the International Group's P&IQ set of exams, as has their (male) colleague Jose Calmon. Many other staff and Correspondents are also studying for P&IQ, the only professional qualification available specifically for the P&I Industry. 
Steamship's current longest serving member of staff Denise Fitch has been with the company for 45 years, whilst the newest member of staff, Megan Cummins joined on what is the new year's day for the P&I industry, 20th February 2019. 
These are just a few of the many people who contribute to the work of Steamship Mutual. A diverse worldwide membership amongst our shipowner and charterer members is served by a diverse range of staff in London, Hong Kong, Rio de Janeiro, Piraeus, Singapore, Tokyo. We wish them all a happy International Women's Day. 
Photo (L-R): Sara Treamer, Fern Attree, Donna Purdue, Maria Chrysanthou, Megan Cummins, Sarah Chase, Rebecca Penn-Chambers, Lorna Watkin