Image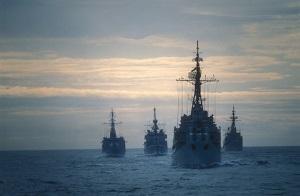 Following the recent incidents involving vessels transiting the Gulf of Oman, a number of members have asked how Club cover may respond to the liabilities that they may incur, as either vessel owner or charterer. The following is intended to be a general overview of the extent of cover the Club can provide although Members should refer to Rules 21 and 22 together with their Certificates of Entry for the detailed terms of cover.

Class I P&I
An owner's P&I liabilities arising from incidents caused by war (which includes civil war, revolution, rebellion, insurrection or civil strife arising therefrom, or any hostile act by or against a belligerent power or any act of terrorism) are typically covered by the vessel's hull war risk insurers and such liabilities are excluded from Club cover under Rule 21. The same exclusion applies to liabilities arising from incidents caused by weapons of war, such as mines and torpedoes and to capture, seizure, arrest, restraint or detainment. However, P&I cover provided as part of a hull war risk policy will usually only respond up to the insured value of the vessel. The Club can then agree to extend cover to include P&I war liabilities excess of the "proper value" of the entered ship (deemed not to exceed US$100m), or the amount recoverable in respect of the claim under any other policy, whichever is greater. Unless otherwise agreed, the limit of this "excess" cover is US$ 500 million in the aggregate per occurrence, inclusive of interest and costs. If the vessel has no or inadequate hull cover in place then the "proper value" is deemed to be a sum which represents the free uncommitted market value.

Therefore, as an example, an owner that is liable for the wreck removal of an entered vessel, where such wreck was caused by a war event, owner's hull war P&I insurer would likely provide cover for that wreck removal up to the insured value of the vessel, and the Club's Class I P&I cover would then respond to liabilities excess of that amount, up to the US$ 500 million limit.

Other terms and exclusions apply to the Club's cover, including a "five powers" clause providing for the automatic cessation on outbreak of war between any of the UK, the USA, France, the Russian Federation, and the People's Republic of China (Rule 21 iii b). The Managers may also cancel ( Rule 21 iii a ) or exclude any geographical location from cover, on seven days' notice (Rule 21 iii c). The relevant clause can be found at rule 21 of the Club Rules 2019 . 

Non-poolable extended covers
Where an extended cover is in place for P&I liabilities excluded under the Club's Class I Rules – such as non-poolable contractual indemnities, excess Hague/Hague-Visby cargo liabilities or voluntary wreck removal - liabilities, costs and expenses arising from incidents caused by war are again excluded under Rule 21. However, subject to prior agreement, the Club is able to reinstate P&I war risk cover for these non-poolable liabilities where such liability arises from an act of war, up to an agreed limit of liability. When the cover is reinstated to include liabilities arising from war, the extended cover/s will respond from the "ground-up", with no requirement for an underlying hull war P&I insurer to cover the liabilities up to the value of the entered vessel. 

These covers remain subject to terms that again provide for the cancellation or restriction of cover in certain circumstances.

Hull War and P&I War risks
The Club can offer its owner members cover for hull war risks, including cover during transits to listed high risk or "breach" areas, and war loss of hire. The cover includes the P&I war risks from the "ground up", up to the entry point of the "excess" war cover within Class I P&I, as detailed above. Further information on that cover is available on the Club's website.

Charterers' Liabilities - P&I and Damage to Hull (DTH)
Charterers can also become exposed to liabilities arising from war risks, and as there would be no underlying hull war P&I cover in place to respond to a charterer's liabilities, the Club's Charterers' Terms provide for P and I cover from the "ground-up" , conditional on the relevant charter party enabling the owner to refuse to go to a location dangerous by reason of war risks or no express indemnity having been given by the Member in respect of such voyages , though to an agreed limit of liability. Unlike most owners' hull war cover, the Club's charterers' damage to hull cover for incidents caused by war or weapons of war does not typically restrict cover for certain geographical areas, and therefore transits to "breach areas" listed by the Joint War Committee can be covered, subject to the voyage being permissible under the relevant charter party, and subject to there being no express indemnity from the Member in respect of such voyages (Clause 16 iii).

The managers continue to monitor developments in the Gulf of Oman, and will be happy to respond to any further enquiries that members may have.