Image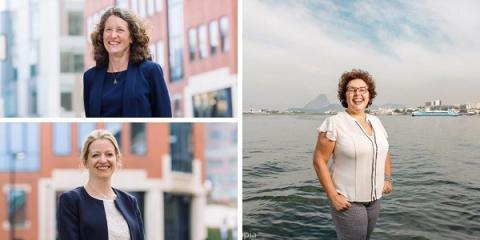 Steamship Mutual is proud to sponsor WISTA UK at London International Shipping Week 2019.
WISTA was founded in 1974 and has gone from strength to strength ever since. It is an international networking organisation whose mission is to attract and support women, at the management level, in the maritime, trading and logistics sectors.
WISTA provides a valuable forum for its members to meet and discuss industry issues. The organisation has a further benefit in that it aims to demonstrate that women can thrive in what is sometimes seen as a male dominated industry.
WISTA members come from a variety of organisations all involved in shipping and trading, including P&I Club representatives, Shipping Company staff, lawyers and others.
Steamship Mutual has staff members who are also members of WISTA including Director Sarah Chase, Head of Underwriting, Americas Syndicate (bottom left photo) as well as Heather Cooper Managing Director Bermuda Office (top left photo) and Katia Oliveira Manager of Steamship's Rio de Janeiro office (right photo). This reflects the WISTA membership as a whole whose members come from over 40 countries.
Steamship's Sarah Chase says, "Wista provides a valuable forum for us to meet women involved in the industry. It is helpful on many levels. We meet people we know through our own work as well as people in related sectors who offer a different perspective on issues".
Many members of WISTA are known to Steamship though our day to day work. One such member of is Lludelis (Judy) Espinal, President WISTA Dominican Republic. Lludelis is President of E&M Consulting who are listed by Steamship Mutual as P&I Club correspondents in the Dominican Republic and Haiti. 
Lludelis says, "It is a great help to women of all generations that there is an organisation like WISTA. It helps to encourage the participation of women in the shipping sector, and is a great way to meet professionals from other countries with the same interest in the industry".
It is worth noting that the theme of World Maritime Day 2019 is Empowering Women in the Maritime Community. 
WISTA has already been involved events related to this including an event in April 2019 "Women, ports and facilitation" co-sponsored by the IMO and WISTA. 
Steamship Mutual is one of the sponsors of the event at City Hall London on 9 September which will include an address by the UK Minister for Shipping Nusrat Ghani MP.