Image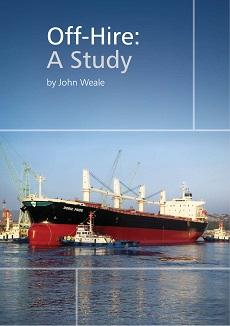 "Off-Hire: A Study" - An invaluable guide to the 'Off-Hire' Clause in Time charterparties
"Off-Hire: A Study" is the latest publication written by John Weale. The Author, in his role as Senior Vice-President, Risk Management at Fednav Limited, Montreal amassed a wealth of experience and expertise in handling both practical and legal shipping issues. He has a reputation as a highly informative writer on charterparty law.
'Off-Hire: A Study' is an excellent guide to the off-hire clause and will appeal to many people working for shipowners or charterers as well as other areas of the shipping industry. Readers of the book will benefit from John's distillation of his expertise in this field. The book describes and discusses all of the leading English law cases on the topic. It is intended as a practical summary and explanation of the law on off-hire as it currently stands for people in shipping companies and defence clubs who deal with off-hire problems and disputes as they arise.
The first section discusses general legal and practical issues with respect to off-hire, while subsequent chapters focus on the specific disputes and problems arising with respect to the specific words and phrases contained in the common off-hire clause of the NYPE timecharter form.
In his foreword to the book, Sir Bernard Rix, a former UK Lord Justice of Appeal, commented "It is a strength of this book that it takes a comprehensive, disciplined and enquiring look at both the older, leading, cases in this field and at the modern trend of authority. At every stage of the journey, the reader is given the facts, the arguments, the decision, and the principles, but always subject to the most searching eye for failures in consistency or realism. John's opinions are always well reasoned and fair. It is an even greater strength that the book is written from the point of view of a participant in the industry."
'Off-Hire – A Study" takes the reader carefully from the general to the more specific. The publication deals with the structure of time charters, the purpose and interpretation of their off-hire clauses, whilst separately covering period off-hire clauses, net loss of time clauses, the concept of loss of time, the concepts of 'full working of the vessel', efficiency and the service immediately required and issues of causation.
In his review of the publication, John D. Kimball, Partner, Blank Rome LLP, Co-Chair, Maritime and International Trade Practice Group and Adjunct Professor, New York University Law School said "With his vast experience in this area, Mr. Weale offers a level of insight rarely seen. The topics covered in the study run the gamut of off-hire issues that have been addressed by English courts. All the leading cases are there, and the fresh perspective Mr. Weale offers goes into many of the cases at length."
"Off -Hire: A Study" is distributed to Steamship Mutual Members and can also be ordered here