Image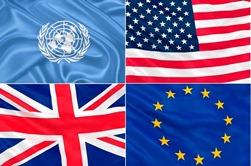 Sanctions are increasingly used by the United Nations, European Union, United States of America, and other Governmental bodies (such as the United Kingdom since its departure from the European Union) as a means of bringing political and economic pressure to bear on countries around the world, this area of the website acts as a central repository where members can find updates on sanctions measures as they impact on shipping and insurance activities.

Those members who may be affected by sanctions measures, and/or whose contractual arrangements may be curtailed or otherwise impacted are encouraged to contact the Club Managers, who will endeavour to advise upon issues affecting Club cover.
A selection of articles relating to a particular area will be found on the webpage for that country:
For ease of reference for parties who may be engaged in commerce with States or their associated entities that are subject to sanctions, there appear below links to lists relating to sanctioned entities maintained by: 

1. The United States Office of Foreign Asset Control (OFAC): https://www.treasury.gov/ofac/downloads/sdnlist.pdf
The OFAC list may be interrogated using the online search facility located at http://sdnsearch.ofac.treas.gov/.  A number of search parameters are provided.  Focusing the search onto "Vessels", "Entities" or "Individuals" creates much more manageable lists, but it can be refined further by entering data regarding the country or city of origin, or even just a street address. The list of vessel names includes ex-names and other aliases.  The individuals also may have a number of aliases and the system will enable searches based on previously known names. Whilst the system makes searches much easier, it carries a disclaimer warning that use of the search facility does not protect the user from liability for sanctions.
2. The European Union: Consolidated list of persons, groups and entities subject to EU financial sanctions 
3. The UK Office of Financial Sanctions Implementation: 
UK List of asset-freeze targets
UK List of targets subject to restrictions on financial markets and services
Disclaimer
Every effort is made to ensure the accuracy of the information provided, however this cannot be guaranteed given that sanctions measures are subject to alteration by Governmental organisations at short notice. Further the information on this site is not, and should not be relied upon as, independent legal advice.